SONILS AND NAMIBIA EXCHANGE EXPERIENCES IN LOGISTICS SUPPORT TO THE PETROLEUM SECTOR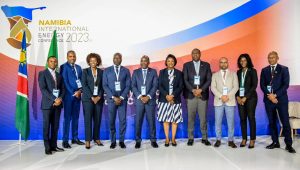 In the framework of the strategic partnership between the Namibian entities NAMPORT, NAMCOR and Sonangol, E.P., for the development of an integrated logistics base to support the Oil and Gas industry in the Republic of Namibia. SONILS received in its facilities the visit of the Ministerial delegations of Mineral Resources, Oil and Gas, of Namibia and Angola.
The Director General of SONILS, Mr. Emilio Costa, welcomed the Namibian delegation, headed by his Excellency Deputy Minister of Mines and Energy, Mrs. Kornelia Shilunga, stating that SONILS is available to share their experiences and "know – how" in logistics management and best operational practices in the sector.
For the General Director of SONILS, Mr. Emílio Costa, the strategic partnership brings a set of benefits for both organizations and equally for the populations of the respective countries. "The local content policy develops the industry and consequently the nations," he added mentioning, that knowledge sharing only happens when there is commitment.
On the other hand, the Vice-Minister of Mines and Energy of the Republic of Namibia, Mrs. Kornelia Shilunga was quite satisfied with the operation of the SONILS base, reaffirming that it is necessary to replicate the good example of the Angolan logistics center for other parts of the continent, "the SONILS' integrated services center is an example of how SONILS can help the Angolan government to achieve its goals.
The meeting was attended by distinguished guests, members of the Government, members of the Board of Directors of Sonangol, especially the Secretary of State for the Oil and Gas Sector, Mr. José Barroso, the Executive Director of Sonangol, Mr. Osvaldo Inácio, as well as Mr. Braulio de Brito, President of AECIPA (Association of Contractors of the Petroleum Industry of Angola).
During the activity, those present had the privilege of hearing the testimony of some clients installed at the base, namely: Total Energies, Akersolutions, Baker Hughes, Halliburton and Schlumberger, who shared their experiences during the years they have been operating from SONILS.