5th International Energy Conference of Namibia – NIEC 2023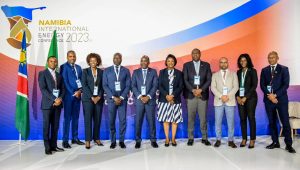 With the aim of meeting with the main players in the local and global energy industry in the Oil & Gas sector, assessing the future challenges and opportunities that the local industry offers, continuing the process of internationalization of SONILS and reinforcing existing cooperation agreements between the two States, SONILS participates, for the first time, in the 5th International Energy Conference of Namibia – NIEC 2023, which took place in Windhoek, from 25 to 27 April, under the motto "Shaping the future of energy towards the creation of value".
SONILS marked its presence as one of the sponsors of the event and the highlight was the participation of the Executive Director of Sonangol and Chairman of the Board of Management of SONILS, Osvaldo Inácio, in the high-level panel "Investing in the Energy Sector of Namibia: Promoting long-term growth" and the Director of Operations at SONILS, Paulo Henriques, on the panel "Becoming a Regional Logistics Centre".
The SONILS and Sonangol delegations, led by Director Osvaldo Inácio, included members of Sonangol's executive committee, SONILS's governing body, namely: General Manager, Emílio Costa and Deputy General Manager, Anabela Marcos, Director of Corporate Relations, Pedro Oliveira, Commercial Director, Joaquim Chipuco and Director of Operations, Paulo Henriques.