SONANGOL E.P., NATIONAL PETROLEUM CORPORATION OF NAMIBIA (NAMCOR) AND NAMIBIAN PORTS AUTHORITY (NAMPORT), SIGN A MEMORANDUM OF UNDERSTANDING AT THE SONILS BASE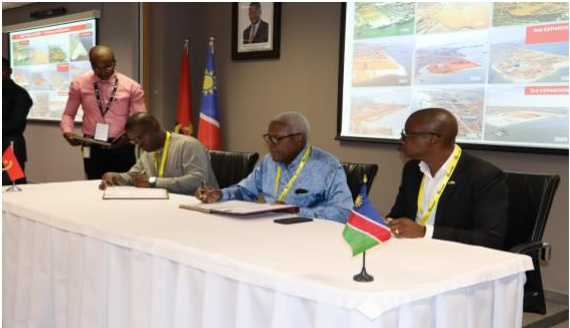 As part of the 2030 strategy, in which SONILS hopes to internationalize its business portfolio, the company received last Sunday, October 9, 2022, the CEO's, Chairman of the Boards of Directors and top representatives of the oil companies affiliated to the African Petroleum Producers' Organization (APPO).
At the meeting, the Chairman of the Board of Directors of Sonangol, E.P., Sebastião Gaspar Martins, the CEO of NAMCOR, Mr. Immanuel Mulunga and the PCA of NAMPORT, Mr. Andrew Kanime, in an act witnessed by the Secretary of State for Oil and Gas of Angola, Eng. José Barroso and the Deputy Director of the Ministry of Public Enterprises of Namibia, Dra. Louise Shixwameni, signed a memorandum of understanding, aiming to develop an integrated logistics base to support the oil and gas industry in the Republic of Namibia, similar to the SONILS Base, a struturing project and of strategic importance.
With the know-how and experiences acquired by SONILS, it is intended to contribute to the development of local content and to strengthen relations between the two countries, giving, according to the Chairman of the Board of Directors of SONANGOL, Sebastião Gaspar Martins, real meaning to the South/ South cooperation.